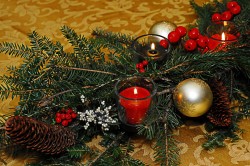 The staff of costablog would like to take this brief moment to wish everyone who visits the site a very Merry Christmas and a Happy New Year.
Here's hoping that Santa Claus brings you everything you want this year – and hopefully nothing that you'll put at the back of your cupboard and never wear or use.
Also, our writers would like to know – is there anything you have particularly enjoyed reading this year or anything you would to see more of in the future?
May everyone enjoy the festivities and have a great time with their family and friends!
Seasons Greetings
costablog