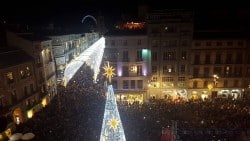 The Christmas Lighting inauguration will take place on Friday 27 November in Calle Larios, Malaga city center.
Thousands of points of light of low energy use and therefore eco-friendly, will be the new decoration for the festive season in the center of Malaga, lighting the main street Larios up to Plaza Consitucion.
The new Christmas lighting will be inaugurated on Friday 27 November with an event that starts at 7 pm in Plaza of the Constitution and has activities for all kind of public. This year, there will be a concert and performance of Spanish singer David de Maria. Other activities will also take place such as a theater play for children or balloons with Christmas messages will be distributed.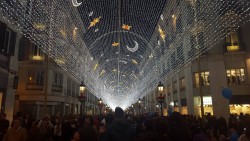 As confirmed by the Councillor for Operational Services, Party, Internal Affairs and Beaches, Teresa Porras, the lighting of Calle Larios will be "brand new" and "spectacular". The city is installing the Christmas lights with less than 3 watts per meter square, in most installations, when the law on energy efficiency provides for a maximum of 9 watts per square meter.
The design for this year will be innovative and new, representing a starry sky full of moons and stars. This is made with a tubular structure constituting of 25,500 kilos of material for a dome and with 2,500 cords and more than 500,000 microleds points of light.
The lighting will be on until the 6th of January which is Dia de Reyes (3 Kings Day), so it can be enjoyed for a month and a half during the festive season.
Images by diariosur.es