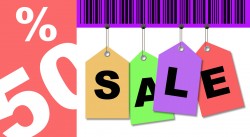 The winter sales period does not officially start in Southern Spain until January 7th, but with times being as hard as they are, shops have decided to bring forward and extend this scheduled event.
While local traders are not actually allowed to use the term "rebajas" until January, many shop windows are covered with signs announcing "special" offers or 50% discount.
I always used to panic around January sales time because I never had any money left over from the finance drain that is Christmas for new things, so I for one think this is a fabulous idea. I still have quite a few Christmas presents to buy – and of course, everyone loves a bargain!