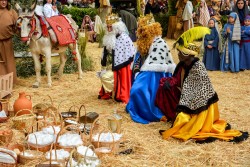 The Three Kings or Reyes Magos is a festival celebrated in Spain on the 6th of January and is part of the Spanish Christmas Holiday season.
Epiphany, a festival celebrated on 6th January, the 12th night after Christmas, is called in Spanish also "Fiesta de los 3 Reyes Magos" or Festival of the Three Kings which are Melchor, Gaspar and Baltasar. It celebrates when the Kings brought gifts to baby Jesus. The Spanish kids write a letter to the kings asking for toys and presents therefore is the tradition to buy presents for the little ones of the family so they think that the Kings brought them the presents they asked for. 
This tradition is marked by huge, spectacular parades that take place in almost every city or town in Spain with sweets, presents, street shows and sometimes even with real camels. These parades are called "Cabalgata de Reyes Magos" and the kings ride upon horses or elaborated carriages and throw goodies down to the children lining the streets.
The arrival of the Three Kings is defined in Spain by the enormous expectation and big annual celebrations that revolve around the event. On January 5, the parade (Cabalgata) takes place with hundreds of people crowding the main roads in order to get glimpses of the procession and the arrival of the Kings in their town.
Typically, people will be walking around ready to get a bag full of candies and sometimes other gifts too. Then at night, the presents are placed for the kids to open the next morning, 6th January, which is a national holiday day in Spain due to this. It is also traditional to eat "roscón de Reyes" for breakfast on this morning, a ring shaped cake decorated with fruits symbolizing the precious gems that adorn the royal clothing.
With festive lights in the streets, Nativity scenes and holiday tunes sets the atmosphere for this last celebration of the holiday season. The best place and the biggest Cabalgata on this day in Costa del Sol will take place in the city centre of Malaga, in calle Larios. But all the little towns and other cities like Marbella, Fuengirola or Mijas will have their own parade in the main streets in a smaller scale.
Three Kings Parade in Marbella
In Marbella the parade will start at 6pm in Avenida Severo Ochoa (La Zambomba), pass through Avenida Ramón y Cajal and Avenida Ricardo Soriano and finish at Plaza Monseñor Rodrigo Bocanegra (El Pirulí or the Coppertower). There will be a total of 14.600 kg of sweets to share with all kids.