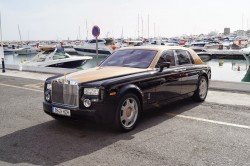 Once Marbella was known for for  its casual but discreet luxury, and actually, not much has changed since the 1950's. Marbella is still known for its luxury and is now even more getting elegant und luxury. More and more wealthy people go to Marbella and make it their new home. Even stars, actors and other famous people visit Marbella for their holidays.
Recently we saw Lady Gaga enjoying her holidays last November or Paris Hilton could be seen as a DJ at the exclusive disco Olivia Valere. Star DJ David Guetta had one of only a few concerts in Spain exactly here in Marbella. Not to mention the Starlite Festival, which is the most exclusive Festival all over Spain with daily concerts for a month in summer. Last years third edition had a lot of Spanish and internationl music stars like Julio Iglesias, Dani Martin, Alejandro Sanz, Ricky Martin, Pet Shop Biys, Tom Jones, The Beach Boys and many more. 
Marbella is turning itself into the HotSpot of Spain and Europe with its unique luxury hotels, restaurants and events. Did you know that Marbella even has a "Walk of Fame", the same way that Hollywood does? It is situated in Purto Banus, in the Avenida de Jose Banus. Recently Vicente del Bosque got his star for his work and his connection to the city of Marbella. Not only has he led the Spanish National Football team to their first ever World Cup and another victory in the European Championship. He is regulary seen here as well.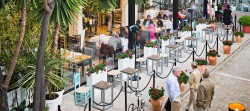 Marbella has a few exclsuive Restaurants. The most famous restaurant actually belongs to Dani Garcia, a Marbella born cook who achieved two Michelin Stars for his restaurant Calima. He has now two exclusive restaurants inside the Puente Romano Beach Resort, which are called Dani García Restaurant and Bibo. Another Michelin star restaurant is El Lago from chef Diego del Río.
As Marbella has all year good weather and more in summer has fantastic beach weather, there are many beach clubs in and around Marbella. Some examples are Nikki Beach, Funky Buddha Beach, Ocean Club Marbella, beach club la Sala by the Sea or Plaza Beach Puerto Banús. All of this beach clubs are not only luxury, they are exclusive and expensive, but fun. Many people from all over Europe enjoy endless parties here in summer and spend some good money.
The list of five-star hotels in Marbella is long for such a small city. Probably the most famous hotels are Marbella Club and Puente Romano Beach Resort, together with Hotel Villa Padierna, Meliá Don Pepe or the Kempinksi Hotel Bahia.