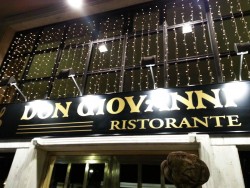 Don Giovanni Marbella is the new restaurant of famous Italian chef Andrea Tumbarello in the center of Marbella.
After creating a famed Italian dining venue in Madrid, Don Giovanni opened in Marbella. A place where you can enjoy the personal brand of gastronomic artistry with all the typical Don Giovanni's dishes and their usual wines and passion for Gin Tonic's.
It is located in the center of Marbella with two large floors and a large terrace with well-spaced tables. The decor is exquisite. It is very well placed, with marble floors, high ceilings, light tones, red on chairs and green on the walls and a large bar near the entrance. Next to the door there is a black piano as decorative element and is supposed to liven up many evenings. The tables are spacious, well dressed and properly separated from each other. The feeling is of comfort and space. 
For lovers of Italian food this is a must try restaurant as they don't offer the typical pizzas and pasta dishes, but take Italian cuisine to a next level offering culinary pleasure and refined dishes. The menu of dishes is almost identical to that which can be found in the restaurant of Don Giovanni. It is based on Italian cuisine with the usual suggestions by Andrea. Appetizers, salads, pastas, pizzas and the usual meat dishes, no fish. And their love for truffles is showed as these are the main ingredients of many dishes.
It is recommended to try their focaccia bread, risotto and pasta with truffles. They also offer the typical Italian desserts such as tiramisu or panna cotta among others.
The wine list is very interesting and worth the try as they have Italian, French, German and many other wines. Any choice is guarantee of success and is served with absolute professionalism and appropriate glasses.
This place is all about a unique dining experience, tasting the best Italian flavors with great service and amazing atmosphere right in the center of Marbella.