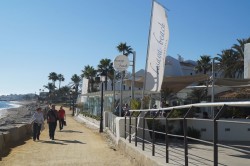 Besaya Beach on the Coast of Marbella offers a unique dining experience for all your senses by the Mediterranean Sea.
Located in the Golden Mile, in Coral beach promenade on the shores of the Mediterranean, near Puerto Banus, Besaya Beach is a fantastic place for different experiences, from coffees and snacks or cocktails by the beach or a dining experience with sea views to relax. Is the place where the sun, the smell of the sea and the sky color is associated with food-edge technology to create a unique experience for your senses.
In Besaya Beach everything is designed to create a relaxing and immersive environment. A place designed to sit and enjoy the pleasure of eating. At your table you will find our interpretation of Mediterranean cuisine with a "nouvelle cuisine" approach. 
There are six different spaces: snack bar, restaurant, gourmet corner, chillout, cocktails, kitchen. You can choose any of these depending on what you want: enjoy a coffee, drinks with sheesha, fine dining or lunches by the seaside.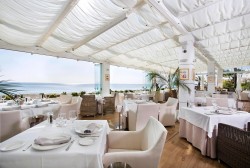 Their Gourmet Corner offers the best dishes for the most discerning palates. This is the corner of the most demanding customers.
Nothing better to create a relaxing atmosphere than a little good chillout music. In Besaya Beach they have the best music from the hands of the best DJs with chillout tunes.
Eating in Besaya Beach is an experience for the senses. Smells, colors, textures and flavors are blended into each dish for the enjoyment of their guests. Mediterranean Cuisine is their specialty offering fish, seafood, meats and vegetables as the cornerstones of their cuisine, accompanied by the best olive oil, seasonal fruits and plenty of spices and seasonings.
Their menu mixes tradition with vanguard offering a selection of the most typical dishes of Mediterranean cuisine, prepared by the chefs following traditional recipes. Their chefs take this traditional cuisine to a new level, making lighter, more delicate dishes, giving great importance to the visual appeal and presentation of each dish.