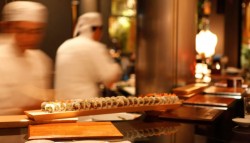 Tahini Sushi Bar & Restaurant is a sophisticated new Japanese restaurant in Hotel Melia Don Pepe in Marbella, where you can taste the best flavor of the country with unique dishes of great variety.
Tahini Sushi Bar is open every day for lunch and dinner and is the perfect place to enjoy a good meal in good company, either indoors in chic atmosphere or in the outdoors huge terrace with amazing views of the Mediterranean. The restaurant is the new elegant spot having full-length crystal windows and amazing interiors as well as exteriors. A sophisticated place with dark wood furniture and an impressive open kitchen that allows you to see the team of chefs working on the best dishes. 
Is owned by the Capuccino Group, having opened the first Tahini in Mallorca long time back, and now opening the second restaurant in Marbella, exactly located at the Hotel Melia Don Pepe. They offer a unique Japanese dining experience mixing tradition and innovation, the same kind that you can find in the best restaurants in Tokyo.
All the dishes are served in a very artistic way, making it attractive to the sight of the most demanding customers. The menu offers a big variety of dishes to choose from, making the decision of what to order a real challenge. From minimalistic healthy choices to hearty warm meals. Some of their specialties are crisp edamame, alfalfa sprouts and violet edible flowers. They also have the most typical dishes such as salads, soups, all kind of sushi rolls, tempura, fish and noodles, all cooked with fresh ingredients.
One of the must try dishes is the veal and vegetable roll with truffle, it is something surprising and really delicious having tempura veggies complementing the meat. It is the perfect place for all sushi lovers and they also offer a good variety of cocktails with a touch of Japan that you can enjoy by a sea view table. To finish the dinner in the best way, they offer unique desserts such as their cheesecake that has a different mix of textures and tastes.
Therefore, Tahini Sushi Bar is one of the coolest new places to check out if you are looking for something different and guaranteed a good service and dining quality. The website has a tool to make reservations online.
If you want to stay in the Hotel before trying the restaurant you can book the hotel here.