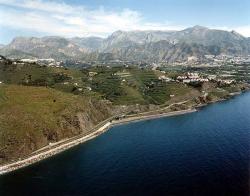 Yesterday the mayor of Nerja José Alberto Armijo Navas has anounced that they are going to build a marina called Puerto Deportivo Nerja-Torrox, between Nerja and Torrox near the Arroyo Frontil and next to the Playa de Vilchez. The marina is outside of Nerja more towards Torrox. This project will cost about 33 Million Euro and will take two years time to complete when they start in 2008.
The new port will offer 500 new berths for boats between 8 and 25 meters and will offer some space for bigger boats up to 35 meters and last but not least it offers a storage yard of 18.000 m² and 300 car parking spaces. All together it will occupy an area of around 23 hectares from which 7,2 hectares earth's surface and 15,7 hectares is build on water. The area for activities like restaurants, cafeterias, shops and so on will occupy a surface of about 3.500 m².
The above picture shows in which area the new marina is going to be situated more or less. It is taken from the website Ministerio de Medio Ambiente.
A marina in Nerja was planned 20 years ago, so finally they reached their aim to build it. In this area around Nerja is no marina. The next one is in Marina del Este. So this will be perfect for the whole area and I am sure it will raise the porperty prices again. Let´s hope they finish it on time and build something nice.