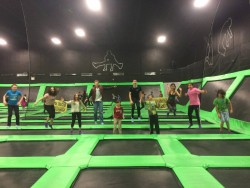 CostaJump is the first and only indoor trampoline park in the Costa del Sol, located in San Pedro, very close to Marbella. It brings an arena filled with wall trampolines.
Step through the doors and prepare to unleash the shackles of gravity as you bounce over 50 interconnected trampolines in their area. They offer different type to choose from: jump zone, basketball slam dunk, dodgeball, foampit, mini jump and costa fit. You can get to experience how it feels to be a superhuman athlete thrown into a Grand Slam Dunk or you can also slam like a pro in the basketball dunk lanes. It is very fun to play a game of trampoline dodgeball with your friends and experience this new challenge. 
CostaJump can be the perfect place for a different type of plan on special occasions like birthdays or corporate events, both for children and adults as everyone and anyone can have fun bouncing. They have special rates for groups and individual tickets rates start from 10€ each for an hour. It is a place suitable for everyone and for any occasion, you can come with your family and friends to enjoy in group or just with your partner to experience an adventure for two. A visit to CostaJump surely brings fun and excitement of your level of your choice.
At CostaJump you can enjoy bouncing of the wall without getting hurt, having all the fun of the world in a secure way thanks to their security and safety measurements as this is considered an extreme sport, but with the right safety arrangements you can experience the thrill of flying through the air. Apart from having the time of your life bouncing, it is also a great exercise as it is estimated to burn up to thousand calories per hour of jumping, and you can check out other health benefits on their website.
If you are a parent and need to get busy while the children are having fun jumping, or you are just not fond of this kind of fun, CostaJump offers other facilities too. There is a restaurant where you can have a drink or coffee with free WiFi access. Check out their website for more information.