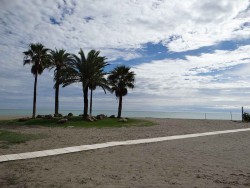 The beach at Los Alamos is a semi-urban beach in Torremolinos on the Costa del Sol, with golden sand and moderate waves being 1,500 meters long and 60 meters wide.
Los Alamos area has gained popularity in the recent years, especially between the younger generation but also is very suitable for families as in this area you can find a variety of activities. The beach has an average high occupancy level, especially during the months of summer where you can find thousands of tourists but also local people.
Among the services available, the beach offers showers, rescue teams, family "chiringuitos" (beach restaurants), chill out pubs and beach clubs, hotels, water sports and attractions such as jet skis, banana boats, pedal boats, etc. The beach is also known for kite surfing activities that can take place when the wind is strong in the area. 
Some of the best beach clubs in the province of Malaga are located here, such as Kokun Ocean Club, Moliere Playa, Sol Beach Club or Maracas. In these clubs you can find the perfect combination of sun, music, amazing catering, drinks, coffees and cocktails, entertainment and sports. These places are open all day offering breakfast and lunches during the day, dinners during the night and also it is a great option for clubbing or a night of drinks and dancing. They usually organize amazing parties during the weekends of different themes which are attended by hundreds of people.
Los Alamos counts with one of the best promenades in town where you can find everyday people practicing sports like running, roller blading or cycling. It is also the perfect place to stroll around and enjoy the views of the beach and witness beautiful sunsets or sunrises.
It is easily accessible by car by going to Torremolinos and there is enough parking around the area, though it can be difficult to find a spot in summer because it gets very crowded. In the last years a lot of events have been organized in this area such as concerts, summer bonfires, music festivals or exhibitions.