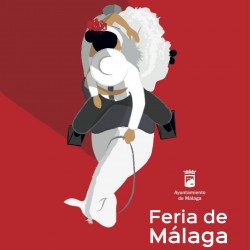 Malaga August Summer Fair isone of the most important events of the year in the city which is gaining international popularity by each year. The Feria de Malaga will take place from 14 to 22 August this year.
Malaga Fair or Feria de Malaga is one of the essential events of the summer festival calendar which gathers around six million people. The Fair is a traditional yearly festival that attracts a large number of artists, as well as bullfighters involved in the bullfights held in La Malagueta bullring. Hence, it is normal a very large number of public during these days in Malaga city considering national and international tourists as well as local people from the towns nearby too.
Fair 2015 will be held between 14 and 22 August. It begins on Friday late night with the traditional display of fireworks in the port of Malaga and continuing for eight days of festivities filled with music, dance, food and drinks in both, city center area and the "Real de la feria" in Cortijo Torres. 
The summer festivities in the city have their origin in the commemoration of the incorporation of Málaga to the Crown of Castile by the Catholic Monarchs, who entered the city on 19 August 1487. In 1491, coinciding with the liturgical celebrations of Cabildo Cathedral, the City Council established the start of the festivities. It is by the year 1887 when, in commemoration of the fourth centenary of the entry of the Catholic Monarchs in Malaga, these festivities re-emerge in its full splendor. The Málaga August Fair is now known as the Big Summer Fair, with an open, cosmopolitan and international feeling, reflecting the character of the capital of the first European tourist area: the city of Malaga as the nerve center the Costa del Sol and its metropolitan area.
The Feria is full of different kind of events from the fireworks display the first night, to a pilgrimage called La Romeria where horse riders and carriages accompany the flagship of the fair to Santuario de la Victoria; and multiple events in the main spots of the Feria de Malaga which are the Real and the Centro. In the Centre Fair you can taste wines and tapas accompanied by traditional folkloric music and dances in the historic streets of Malaga. The Real of the Fair is full of booths called "casetas" where you can enjoy live entertainment with different dance shows, concerts and more. At night you can also go on the different rides and play the different games of the fun fair, and eat traditional feria food too such as "camperos" or "churros with chocolate".