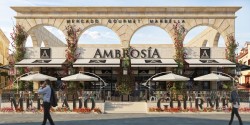 Ambrosia Gourmet Market in Puerto Banus is a new gastronomic project that will be a reality on the 24th of July in Marbella and it will be the first gourmet market in Costa del Sol. It is situated in the urbanization La Alzambra, just next to the new and exclusive Cavalli Club only a few hundret meters from Puerto Banus.
With some similar experiences in Madrid, Barcelona or Córdoba, this entrepreneurship project emerges with an investment of one million euros and the creation of nearly one hundred direct jobs.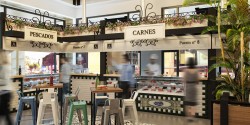 According to its leaders, they don't only want this market to be just for tourists but also for the local citizens. This is why they intend to organize various cultural and culinary events to increase the offer to the public.
A total of one thousand square meters on two floors have been refurbished with an Andalusian atmosphere that is even more attractive for visitors. The official inauguration will take place on the evening of July 23 and from 9 am on Friday 24 the Ambrosía Mercado Gourmet will be open to the public.
The Ambrosia Gourmet Market will open every day, 365 days of the year, from Monday to Thursday from 10am to midnight and Friday to Sunday from 10am to 2am at night.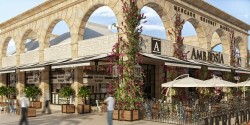 Ambrosia Gourmet Market is a multi-sensory culinary experience for everyone's enjoyment. An evolution of forgotten central squares and traditional markets to a market that combines three areas:
Tasting in situ of natural or processed dishes in colorful and bustling market atmosphere.
Daily or occasional food and drinks sale and delicatessen of national and international origin.
Culinary, cultural and social experience in the glamorous and cosmopolitan part of Puerto Banus.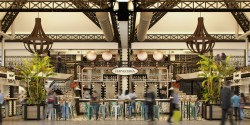 Initially there will 14 different stands at this market with a central restaurant hall for a capacity of hundred diners where you can try sample dishes from different countries and cuisines such as Spain, Thailand, Italy, France, Germany, etc. There will be a wide range of products with different price, specially giving priority to fresh products.
This is precisely one of the major purposes of the market: the democratization of haute cuisine. Reasonable prices for exquisite tastings that is not always accessible to everyone in other gourmet establishments. Of course, there will be a special selection for those seeking excellence products. The food will be presented in mini formats such as tapas, pintxos, toasts and canapés or more generous portions as bigger dishes.