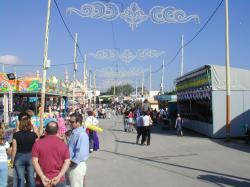 The Nerja Fair (Feria de Nerja) has been running since the late 1980s to the familiar formula of decorated tents called "casetas" set up by some people to entertain and to party. The fair is every year between October 8th – 13th, because October 12th is National Holiday of Spain or Hispanic Day (Fiesta Nacional de España or Día de la Hispanidad). It is a national holiday which commemorates the exact date when Christopher Columbus first set a foot to America. So the last days of the fair people can enjoy, because nobody has to work.
The fair begins with a morning parade of the feria queen and giant caricatures, through the streets of Nerja. The women are wearing their flamenco dresses as well the the men do. During this parade you can see them on horses riding through the streets of Nerja. Parades, dancing, musical and theatrical performances, street theatre, fairground rides and fireworks all go into the lively mix of entertainment. So you can start during the day with some fairground rides and some tapas. At night there are normally some concerts of well known people in the casetas, which will be packed with people. And after that you can just drink and dance until the morning hours when you can have a small breakfast on the feria, e.g. churros.
The fair is easy to find. It is situated between the Hotel Parador and the Balcon de Europa. I'm sure you won't miss it. There are enough signs or just go where everybody is going to.
If you want to visit the Nerja fair but don't know where to stay I can always recommend the Hostal Casa Mercedes. It's only a stone's throw away from the fair, but enough not to be disturbed by the music.
See you at the fair.