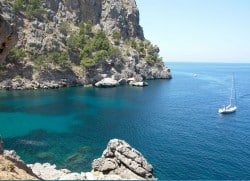 Its numerous castles, beaches and small villages are enough to qualify Spain among the most romantic destinations in the world. Whether you are looking for the tranquility of a mountain village or a hot, half-deserted beach. Whether you're planning a surprise weekend escape or the wedding of your dreams. Spain will live up to your expectations. Places like the Canary Islands, the Balearic Islands or Andalusia are generally considered as the most romantic destinations in Spain. 
Spain isn't immediately thought of as a lovers' paradise, but it should not be dismissed. The Moorish history of the region is visible in the stunning architecture of the town. While restaurants offer delectable tapas from a variety of culinary influences. There are also many beaches with golden sands, trendy but relaxed resorts and, for the more confident couple, various naturist beaches.
Spain is one of the most romantic, exotic, and mysterious countries in Europe. This makes it the perfect destination for a honeymoon. Its images conjure up romance: the flamenco, architectural splendor, enchanting vistas, multilayered history, and stunning beaches. Whether couples choose to explore its Rioja wine growing region, revel in its sun-drenched beaches, or relax in luxury in one of its lively urban centers. There is a side of Spain that will fit every couple's dream of romance and love.
The winding cobblestone streets are perfect for getting lost with your special someone. Taking breaks is even better. It seems like Spain's most eclectically dressed all gather to have their mid afternoon cocktails and pinchos right by the river. Paddle and rowboats are for rent if you would like to enjoy the romantic sunset from the water itself.
If you listen carefully, you can hear the gentle melodies of the Spanish guitar, the swish of a flamenco dancer's skirt, the snort of an angry bull, the shout from t he matador, and the happy laughter from a mid-day meal infused with too many glasses of bubbly cava. Yes, Spain is for travelers interested in famous paintings and stunning architecture, but it's also, and maybe more so, for those looking for an unhurried good time.
Spain boasts one of Europe's most unique cultures. Modern cities, traditional art forms, a passion for high quality food and drink, and some of Europe's most beautiful landscapes make Spain an ideal destination for couples seeking to create memories together. Spain might not have the same status as a tourist destination for couples that France and Italy enjoy, but its uniqueness makes it an ideal place for people who want to create their own memories, not simply trod the well-worn path to the so-called romantic European destinations that have long ago lost their charms