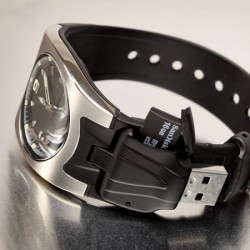 For those who thought the iPad and the iPhone were at the peak of cutting edge technology will certainly consider these ideas out dated when they see what an invention the MicroSD Card Reader Watch is. This fantastic piece of technology – which at first glance looks just like any other ordinary watch – has a built-in card reader with a flip out USB cable for direct connection to a computer with no need for any additional wires or gadgets.
The decidedly James Bond-esque accessory means that gigabytes of data can simply be carried around one's wrist. The watch has a slick black and steel design, making it aesthetic as well as functional. It is also water resistant, static and shock proof and has an LED status indicator.
Of course, the battery life may get used up faster than a standard watch, despite purporting to have a 3 year battery life – but that's all relative depending how much it is used. The MicroSD Card Reader Watch is compatible with Windows 98/2000/XP/Vista/7 and Mac.
And if you're thinking that this technology will set you back a pretty penny, you'll be pleasantly surprised to find out it will set you back as little as $16. (11.92€)