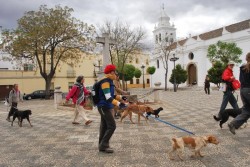 The Spanish animal protection association "Planeta Animal" who's main objective is to raise awareness in the human population through targeted projects, invites everybody to walk with them to Santiago de Compostela, a pilgrimage for the animals. In 2009 many people joined a magical pilgrimage for Animal Rights,' El Camino', following the St. James Trail to Santiago. Some came from animal protection backgrounds, to experience another way to tackle the problems they've been trying to solve for years. Others had no experience of the groups working for years to highlight ill treatment of animals and promote their care and protection, but liked the idea of hiking with a dog.
This brave group of fifteen two legged hikers, from all over the world, along with fifteen four legged hikers, gained respect from many who witnessed them along the way. Just to see them arrive tired, but happy, after another long day's walking and to witness the shared feelings of the two and four legged beings, made people think a bit more about the animals.
We live in a world full of needs and do not see that everything is related. If we do not teach our children to respect the animals and nature, they will not respect their fellow citizens either. And we all know that respect is the basis of a functioning society.
Now Planeta Animal invites everybody to take part in 'El Camino 2011'
We will walk for harmonic coexistence between human beings, animal and nature on our planet
Those who do the walk will have a great opportunity to combine a responsible week holiday with a chance to experience the legendary pilgrims trail. The Silver route will take us through some of the wonderful, unknown landscapes of Spain, up to Astorga, then continuing on the French route to Santiago de Compostela.
March 19th to April 29th 2011
The animal companions on the Camino will be dogs and donkeys, so far, but anyone who wants to could bring another animal, as long as they are sure that it would be capable of covering 24 kilometres a day.
Planeta Animal will provide all the infrastructure needed by human and animal travellers, with guides, accommodation (in pilgrim lodgings, rural houses, hotels etc.), food and water, transport of baggage etc. Volunteers who want to take part, can do so in periods of one to six weeks, choosing the most attractive week of the route and making sure of a realistic distance for their own animals.
Those who cannot join us walking, will be able to follow our progress, through a blog on the website. You can also support us by sponsoring one of the four donkeys doing the Camino, one euro per kilometre. Profits from this will go towards funding our nationwide education programs.
For more information, visit our webpage: www.planeta-animal.org