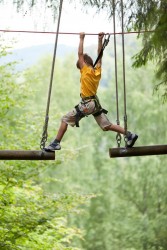 Aventura Amazonia or the Amazon Adventure is the largest adventure park of Andalusia and the only one located on the coast, counting with a total of 83 games and 20 zip lines trees spread over 6 adventure circuits: MiniKids, Kids, Explorer, Jungle, Adventure and Sports. They also have the biggest slide between trees of Andalusia with a length of 240 m.
The MiniKids area offers adventure games, crafts workshop and a zip line for children of age 4-7 years and also works as a babysitting service for parents who want to climb to the circuits and have nowhere to leave the little ones.
The park is strategically located in the heart of the Costa del Sol, in the area of Elviria (Marbella), near the A7, within 20 minutes from the main towns in the area: Torremolinos, Fuengirola, Benalmádena, Estepona. 
They guarantee you 3 hours of fun, excitement and adventure as with the entrance ticket you can enjoy the multisport circuits as many times as you wish. The park has a café, and a commercial area with shops and restaurants and throughout the area there is also a huge variety of restaurants and hotels of all levels and prices.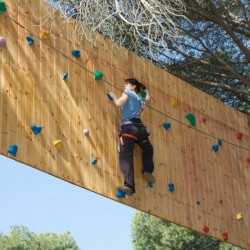 The park is committed to the highest technology in safety and incorporates new smart carabiners that have passed validation tests in extreme conditions. Made in stainless steel, copper and aluminum forged, this technology is the result of thousands of hours of work were needed to provide this solution is 100% safe and extremely simple for the user. This new system prevents one of the carabiners to open if the other is already open, and communicating between them, allowing 100% that a participant never lies outside the security line.
There are different tickets prices for small children, teenagers and adults, as well as different rates for groups getting discount. They also can plan birthday's parties or other celebrations, guarantying an eventful day of fun and adrenaline for all ages.