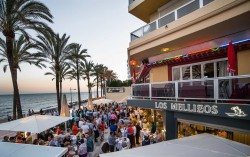 Los Mellizos opened their doors with a new restaurant in the promenade of Marbella, offering the most elegant setting where you can taste the best fresh fish and seafood directly from the market to your plate.
Los Mellizos is a brand of local restaurants, very popular due to their tasty seafood and counting with branches around Costa del Sol located in Malaga, Benalmadena, Torremolinos and now also in Marbella, counting on a magnificent location on the promenade of Marbella, where you can enjoy a tasty meal of fish and seafood with direct views of the Mediterranean. 
The first opening of Los Mellizos was in 1997 as a fish store in order to provide a better service for customers. At first the company was projected to have the exclusive function of wholesale seafood. The seafood store initially established to serve breakfast and sweets for the customers that were waiting while they prepared the order. Eventually the customers changed the cafes by the glass of white wine and sweets for monkfish and shrimp skewers and that is how the first restaurant started.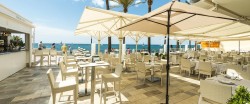 Los Mellizos are growing and a sign of this growth is their new restaurant in Marbella that offers the best of their dishes: fried fish, rice and seafood of great taste and quality, that is their identity trademark while adding dishes for everyone's choice in their menu such as meat, salted fish and others suitable for vegans too.
Their cuisine covers all types of seafood on one hand and on the other the traditional Mediterranean dishes. Their new restaurant in Marbella keeps their traditional hallmark but is adapted to modern times with a fresh and elegant look that will surprise you. It is the perfect place to enjoy the beautiful sea in company of your favorite people and choose from a wide range of wines and extensive menu.
They have a large terrace with 100 seats and a cozy lounge for 70 guests where you can also celebrate special occasions as they have arrangements for corporate events, celebrations lunches or dinners and more.