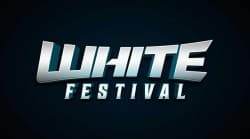 White Festival in Malaga will count with the presence of Steve Aoki, one of the best DJ's in the electronic music scene.
The next September 19 in the auditorium of Malaga more than 10,000 people will gather dressed all in white dancing to the live music thanks to all the guests DJ's from 12 noon to midnight. The biggest name of this event is no other than Steve Aoki.
Malaga will close the summer with the incredible performance by American artist Steve Aoki in White Festival, a great news for all the fans of the DJ and electronic music in general. The festival will take place on September 19 in the auditorium of Malaga with a total of 11 artists who will perform for 12 hours non-stop. 
Steve Aoki, whose full name is Steve Aoki Hiroyuki Peneluyi, and at 37 years old is one of the best DJs and producers in the world. Currently it ranked number 10 in the top 100 artists Dj Mag, though his best was number 8 in 2013. He has played in the best festivals in the world, such as Tomorrowland where he debuted in 2011 and others like Ultra Music Festival in 2010, EDC, Coachella and many more, so it is a privilege to count with him at this festival in Malaga.
He is also resident DJ at Pacha Ibiza with his own party named Aoki's playhouse. His performances are one of a kind as he offers great quality and the his unique personality on stage with things like the famous "tartazos" (throwing cake to the public) or jump into the audience. As for his production career, Steve has his own label, Dim Mak Records, one of the most consolidated in the current scenario that has produced great DJs like Deorro, Yellow Claw, The Chainsmokers or Clockwork. As a producer his list of successes goes on with great tracks like Boneless, Freak, No Beef or the remix of Pursuit Of Happiness Kid Cudi which became a mass phenomenon.
This White Festival is certainly the best way to end the summer in Costa del Sol. Tickets can be bought at a starting price of only 20 euros.