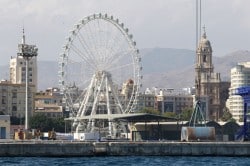 A Ferris wheel of 70 meters high and 600 tons has begun to bear its first laps in the port of Malaga, the place where it will be for the next eight months making it a new added tourist attraction in the city center.
The company responsible of this, Mederyt Show Services, has reported that the attraction is already working and open for the public since August 27th and on September 8th will have a formal inauguration. The company has chosen Malaga because it's the third potentially most touristic city in Spain and is expected to receive thousands of visitors. The Wheel is supposed to remain in the port for eight months but its stay could be extended if it works well and gets more visits than expected. 
This device is one of a kind in the world, similar to "the London eye" for example, and is now open in Malaga, a very safe wheel where visitors can see the beauty of the city from a unique point of view, never seen before.
The mayor of Málaga, Francisco de la Torre, explained that the chosen space at the Port of Málaga is the perfect point for this wheel to be successful as it is one of the best points accessible to everyone, close to the bus station and offers the best views of the city reaching up to 30 kilometers. From the top you can see the main points such as Muelle Uno, the port, the main street Calle Larios, the Gibralfaro castle and Alcazaba as well as the Cathedral.
This new attraction will help intensify the connection between the port and the city center and boost the number of tourists in the port area. It is expected to be a big success and will have a positive impact on business in the area of the port too.
The price per adult is ten euros although there are discounts and special rates for families for 7 euros, group entrance for 8 euros and children's fare. The ticket includes a ride of 15 minutes in which the wheel gives three complete rounds.
The Mirador princess Wheel is already a part of the skyline of the city and particularly benefits the Soho area, the historic center and the port area.