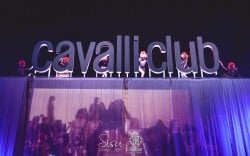 Inspired by and launched in collaboration with designer, Roberto Cavalli, Cavalli Club is the distillation of all things fabulous.
The Cavalli Clubs increase in number with this new opening in Marbella making a total of 5 clubs worldwide for now. It opened few months back, in May 2015 in Puerto Banus, joining the list of cities where the brand has more clubs such as Dubai, Milan, Miami and Ibiza.
The flamboyant Italian designer Roberto Cavalli, famous for its unmistakable animal print designs and models, moved to the dishes, fashion and style of Puerto Banus nights in exuberant style. Cavalli Clubs in Dubai, Miami, Milan and Ibiza have carved out a great reputation among the clubs to provide an incomparable experience. 
This is not only a night club but is also planned to be a fine dining restaurant that will open next summer. For now they have a lounge menu with the best Italian tastes, cocktails and champagnes and fashion dining in a luxurious setting. You can come to enjoy the opulence and delicious delicacies of the "lounge menu" such as Kobe beef, Wagyu burger and champagne enjoying in the spectacular luxurious animal-inspired atmosphere.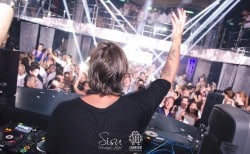 The Cavalli Club Restaurant & Lounge Puerto Banus follow the same formula to become a chic place and offer absolutely the coolest nightlife in the Mediterranean. The decor is sophisticated and energetic, guarantee a summer full of events and celebrations of the most cosmopolitan ambience where the designer itself could join. Summer 2015 is the first summer for this club and it already counts with a great number of artists visits such as Alesso, Tyga, Chris Brown or Snopp Dogg to name a few. These artists played and sang live offering the attendees a great night of fun, music and dancing until early morning.
The opening of this impressive stage with capacity for 1,000 people is the result of a joint venture between the Pragma Lifestyle Group, based in Dubai, Roberto Cavalli and Sisu Boutique Lifestyle Group SL provider in its own right and nightlife owner former club "Sleek" where the foundations of this new luxury nightlife scene feel. With a multimillion budget (at the launch of Cavalli Club Dubai they invested $ 30 million) it is ensured that this scenario will become one of the major attractions of Marbella.