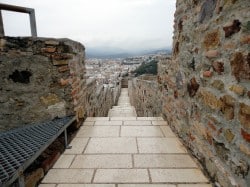 Gibralfaro Castle is a fortress located in the city of Malaga. It is an ancient building from the Moorish times in Andalusia being now one of the most popular monuments in the city of Costa del Sol.
This castle was built in the XIV century to house the troops and protect the Alcazaba, and is today one of the most popular buildings of Malaga where you can walk passing the passages with stunning views and visit the Interpretation Center for its history.
The ancient enclosure contained a lighthouse that gives name to the hill Gibralfaro (Jbel-Faro or Lighthouse Mount). Rahman III was who transformed it into a fortress where they were ancient ruins existing from before the arrival of the Romans. Once upon a time was considered the most impregnable fortress in the Iberian Peninsula. It has two lines of walls and eight towers. The outer walls are arranged in ways that unite the Alcazaba Castle, in the city centre. Meanwhile, the interior walls allow the walkway around the perimeter of the fort.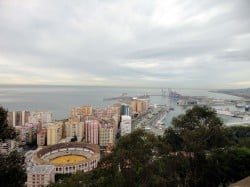 There is an exhibition that looks at elements of everyday military life in the castle throughout the history. It contains, among other items on display, the typical military uniforms of the soldiers of the regiments of each era that stayed at the castle.
Today the castle is visited by thousands of people and is a point of tourist interest that everyone who visits Malaga should check out as it is a good way of discovering the past history of this city.
Besides being declared historical artistic monument according to the Spanish law, it also offers stunning views of the beautiful city of Malaga.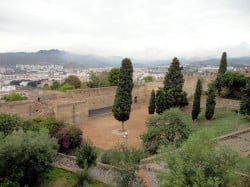 From the Gibralfaro Castle you can see the harbor, the port and the famous Malagueta beach and on clear days it is possible to see some mountains of the Rif Mountains (in Africa) and the Strait of Gibraltar. There is no other point in the city from where you can see this spectacular view, so a visit to the Gibralfaro Castle is a must. It is open daily from 9am to 6pm in winter and until 8pm in summer, and the entry cost is just 2 euro.
This is definitely worth a visit. But remember that it's a good walk if you want to see everything, so take some good running shoes.