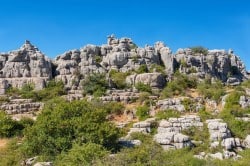 El Torcal de Antequera is a nature reserve in Sierra del Torcal located in the city of Antequera, in the province of Malaga. It is known for its unusual landforms and is one of the most impressive karst landscapes in Europe.
El Torcal Natural Park of Antequera contains one of the most impressive examples of karst landscape across Europe, and its name, to sinkholes or torques, some curious formations in circular depressions. The whole area was under water until one hundred million years ago. Then the violent movements of the Earth's crust forced it upward into hills and mountains up to 1300 meters. The slow but steady action of rain, snow and wind on this material have shaped this landscape in a characteristic way. 
There are different routes that invite to get lost in this city of stone. The path of the visitor center Torcal Alto, known as Parkway, is where karst forms are more spectacular. The rocks here are a collection of natural sculptures, some with familiar forms, such as screw, declared Natural Monument, the Sombrerillo, the Chalice or Dado, among many others waiting to be defined by the imagination and fantasy of those who ride on.
Three routes through the park for walkers have been marked out with different coloured arrows on wooden sticks. The green route is the shortest and easiest, 1,5 km. and takes about 30 minutes. The yellow route covers most of the green area, is 2,5 km. long and takes you to "Las Ventanillas", at 1.200 m. for panoramic views of the valley of Málaga. Finally the red route is the longest and most difficult, 4,5 km. taking about three hours, with a viewing point 1.339 m. up where you can see the whole of the El Torcal Park and the Africa Coastline.
This beautiful and inhospitable place also contains a rich and varied vegetation with some unique species. The landscape, oaks, maples and mountain ash interspersed with plants adapted to live in the cracks of rocks. Its fauna is rich in birds like vultures and owls, plus mammals such as foxes and weasels. Next to this area Torcal Bajo, the viewpoint of the windows overlooking the river valley, offering beautiful views of the landscape and the town.
To get to the Torcal you can drive to Villanueva de la Concepcion and follow the signs. At the parking area you will find an information centre, small museum with an interesting view of the wildfire, flora and fauna of the park.