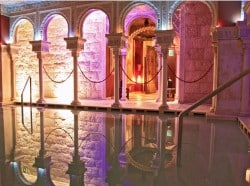 Hamman Costa del Sol, located in the town of Benalmadena, is the perfect place to enjoy a day of relax surrounded by the atmosphere of the ancient Arab baths.
The history of Arab bath rooms is that they emerged as an inherited tradition of the ancient roman baths.
In the Arab world these bath rooms were the center of social life and a place of relaxation and rest. Apart from being a ritual, water is considered a divine gift that means profound wisdom and purity. Inspired on this premise, Hamman Costa del Sol offers an unforgettable experience for all your senses. 
Inspired by Moorish architecture, Hamman Costa del Sol in Benalmadena, offers the possibility to enjoy a hammam circuit for 90 minute where you can hear the sound of water and experience the feeling of being immersed in history while enjoying Arabic tea in the relaxation room. And then, relax with a massage with warm essential oils or citrus essential oils.
The architecture and the lightening of this center will transport you to a different era. Enjoy on your own or in the company of whoever you wish of these magnificent bathrooms. The thermal circuit consists of 3 parts, the cold pool, warm pool and hot pool, plus you can also relax at the steam room. The staff will explain you what the benefits of each type of bath for your body. The contrast in temperature causes a unique and relaxing experience for your body and senses.
They offer various services that go from a basic thermal circuit, steam baths, tea tasting and massages. You can choose from the different kind of massages from foot reflexology, facial massages, relaxing or relieving ones and also taste the different hot or cold teas.
To finish your marvelous day of relax and exotic experience, you can have a wonderful dinner at one of their partners restaurants by enjoying delicious cuisine in the Brasserie Restaurant or Casablanca. They offer authentic Arabic cuisine with typical dishes like pastelas and couscous and amazing cocktails with the entertainment of a belly dancing show too.