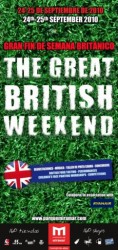 Here's cause for a little celebration during these hard times. The Parque Miramar Shopping Centre in Fuengirola is holding a British Festival Weekend today and tomorrow (24th and 25th of September) from 4pm.
On the agenda for Friday kicks off with a "Fawlty Towers" screening at 4 -7pm (brilliantly funny English t.v show!) A "spot of afternoon tea" will be served meanwhile from 4.30pm until 7pm all completely free and then afterwards there will be an International Welsh singer, Laura Elen singing from 8.30pm until 8.45pm.
On Saturday, the screening will continue in the same way, this time with "Black Adder" – (another of my personal favourite British television shows!) which will be shown from 4 -7pm. There will be free face painting and t-shirt painting offered around the same time. Afterwards there will be a "Stagecoach" performance, when children from the famous theatre school will perform some Brit pop classics. A folk music session is on the agenda from 7-8pm, with a free cider bar and food tasting from 8.30-9pm.
The festival will also be accompanied by the Cudeca Foundation and the Fuengirola District Society, who will be offering free blood pressure tests to the crowd from 4pm onwards on Saturday.
A prize draw will also take place all weekend called "Guess the three famous British faces"
Sounds like a fun-packed, economical weekend for all the family! Don't miss out!
THIS WEEKEND!