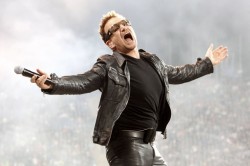 The famous Irish rock band U2 around singer Bono already started their 360º Tour through Spain with the start in San Sebastian on Sunday 26th September. On Thursday 30th September they will go to Seville to the Estadio Olímpico de La Cartuja. The concert was initially planned for the 29th September but was put back a day due to a country-wide strike on 29th September over the government's proposed labour reform.
The U2 360° Tour is named after the 360-degree staging and audience configuration it uses. The stage set makes use of a massive four-legged supporting rig that has been nicknamed "The Claw" and has set a world record for the largest concert stage structure. With this configuration the stage is being placed closer to the center of the stadium's field than usual. The stage has no defined front or back and is surrounded on all sides by the audience which can increase the venues' capacities by about 15–20% and the audience is even closer to the stage.
The opening act of the concert will be the band Interpol, an American indie rock band formed in 1997 in New York City.
Tickets for the U2 360º Tour in Seville are still available from 55 Euro at www.ticketmaster.es, but hurry up, they will sell out before the concert.