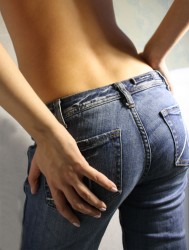 Have you ever looked at person walking down the street in the tightest hipster jeans and smallest t-shirt and thought their clothes looked sprayed on?
Well, the future is now – and recently a Spanish fashion designer, Manuel Torres – in conjunction with chemical engineers at Imperial College London – has come up with just that idea.
Quite far from the idea of body paint – which is old news, and closer to the spray on latex which was devised for condoms in 2006, this revolutionary product uses combined fabric elements of short fibres mixed with polymers, which is then dissolved into a solvent that allows it to be sprayed from an aerosol can or high-pressure gun.
With regard to the latex spray on condoms, in case you were interested – well they never got past the prototype stage. One of the reasons was the hissing sound the contraption that sprayed the latex made but the main reason was that liquid latex takes 2-3 minutes to dry…which was deemed to be a mood-killer. No, really?
The thing I found especially amazing about this new fabric is that it actually shows creases in the garment when it has dried (which, in contrast to the aforementioned latex – is almost instantly.) These DIY clothing items can be removed and are also purported to be able to be washed and worn again!
Watch the video here.
However, unfortunately this innovative idea still faces a few stumbling blocks – mainly that the solvent smell is extremely potent – therefore it is still in the prototype stage and it is not estimated to be on sale for at least a couple of years. The practical issues are extensive. Can you imagine the repercussions of spray on swimwear? Surely, it would have to be waterproof. This together with the obvious 'to wear or not to wear' underwear problem. It seems, that like most of the ranges as part of high fashion festivals, this material has its place only for the runway. There are other valued opinions however. Scientists think the new fabric, created through careful use of an aerosol, could have applications not only in high fashion – which is a great for a marketing angle – but also in medicine and industry.
Who said the Spanish were behind the times?!