Stretching along the southern coast of Spain, the Costa del Sol is a sun-drenched paradise known for its stunning beaches, vibrant nightlife, and charming villages. But what many people may not realize is that the Costa del Sol is also a foodie's dream come true.
With its rich culinary heritage and diverse influences, the Costa del Sol offers something to satisfy every palate. From traditional Spanish tapas bars to Michelin-starred restaurants, there's a culinary adventure waiting to be discovered at every turn.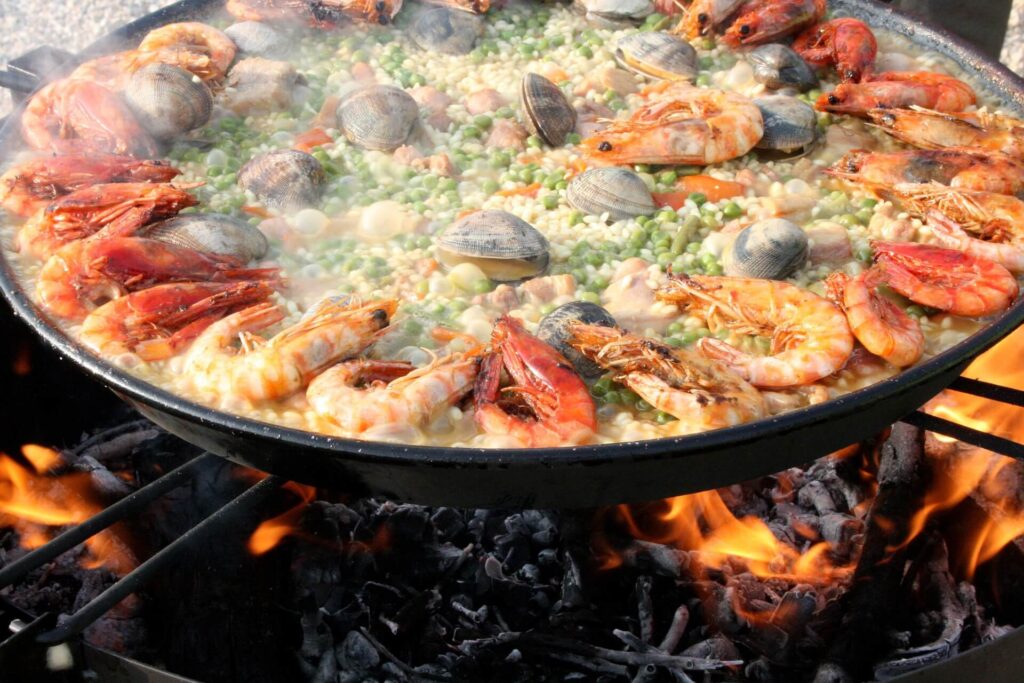 Here's a glimpse into the culinary delights of the Costa del Sol:
Fresh Seafood
The Costa del Sol is a coastal region, so it's no surprise that seafood is one of its culinary staples. From the bustling fish markets of Málaga to the secluded chiringuitos (beachfront restaurants) of Marbella, there are endless opportunities to sample the freshest seafood in Spain.
Some of the most popular seafood dishes on the Costa del Sol include:
Espetos: Skewers of freshly grilled sardines cooked over an open fire.
Paella de marisco: A seafood paella made with rice, shrimp, mussels, clams, and calamari.
Fritura malagueña: A mixed seafood fry made with a variety of fish and shellfish.
Gambas al pil pil: Shrimp cooked in a spicy garlic and chili oil sauce.
Must-Try Traditional Dishes
Gazpacho
This cold soup is a staple in Andalusian cuisine. Made with fresh tomatoes, cucumbers, and peppers, Gazpacho is a refreshing dish perfect for hot summer days.
Pescadito Frito
Literally translated as "little fried fish," this dish typically features anchovies, dogfish, or sardines that are lightly battered and deep-fried.
Ajoblanco
Known as white gazpacho, this chilled appetizer is made with bread, crushed almonds, olive oil, garlic, vinegar, salt, and pepper.
Arroz con Leche
This is a popular rice pudding dessert flavored with cinnamon, offering a sweet end to any meal.
The Hottest Restaurants to Visit
The Costa del Sol is home to a range of restaurants that offer stunning culinary experiences. From Michelin-starred establishments to charming local eateries, there's something for every palate.
El Lago, Marbella
Located in the famous city of Marbella, El Lago offers a modern twist on traditional Andalusian cuisine. The restaurant is particularly known for its fresh seafood dishes.
Skina, Marbella
Another Michelin-starred restaurant in Marbella, Skina offers an intimate dining experience with a focus on local ingredients.
Los Marinos José, Fuengirola
This restaurant in Fuengirola is a haven for seafood lovers. The menu features a wide range of fresh catches, from clams to octopus.
Food Festivals and Events
The Costa del Sol also hosts various food festivals that celebrate its rich culinary heritage. One such event is the "Dia de Ajoblanco," celebrated on September 2nd in Almachar town. The festival pays tribute to the popular dish Ajoblanco and offers a range of other local delicacies.
Here are some additional tips for planning your culinary adventure on the Costa del Sol:
Make reservations in advance. The Costa del Sol is a popular tourist destination, so it's important to make reservations at popular restaurants, especially during the peak season.
Be adventurous. The Costa del Sol offers a wide variety of cuisines, so don't be afraid to try something new.
Don't forget the wine. The Costa del Sol is home to several wine regions, so be sure to sample some of the local wines while you're there.
Conclusion
The Costa del Sol is truly a food lover's paradise, offering a wide range of culinary delights that range from traditional Spanish dishes to fresh Mediterranean seafood. Whether you're a seasoned foodie or someone looking to explore new tastes, the Costa del Sol has something to offer that will leave you craving for more.