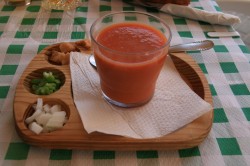 Spanish cuisine consists of a variety of dishes, which stem from differences in geography, culture and climate. It is heavily influenced by seafood available from the waters that surround the country, and reflects the country's deep maritime roots. Spain's extensive history with many cultural influences has led to an array of unique cuisines with literally thousands of recipes and flavours. It is also renowned for its health benefits and fresh ingredients, as Mediterranean diet.
In Andalusia fried fish (Málaga), salmorejo and gazpacho are the main dishes the region is known for. Seafood, especially shrimp, squid, mackerel and flatfish is used. They are also know for their Jabugo ham and Sherry wine. Olives and olive oil is special in Andalucia.
Other examples of popular dishes include most importantly Potato omelette ("tortilla de patata", "tortilla española" or just "tortilla"), paella, various stews, mig as, sausages (such as embutidos, chorizo, andmorcilla), jamón serrano, and cheeses.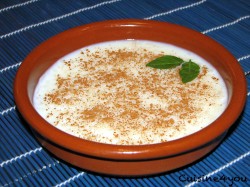 There are also many dishes based on beans (chickpeas, lentils, green beans); soups, with many regional variations; and bread, that has numerous forms, with distinct varieties in each region. The regional variations are less pronounced in Spanish desserts and cakes: flan,custard, rice pudding (arroz con leche), torrijas, churros, and madeleines are some of the most representative examples.
Other foods include arroz con leche or rice pudding. Calamares a la romana or fried squid. Sopa de marisco. Cocido montañés is a typical stew. Chorizo which is a spicy sausage. Chuletillas de lechazo or grilled chops of milk-fed lamb. Chuletillas de cordero which are small grilled chops of lamb or mutton. Salmorejo is a chilled tomato soup thickened with bread and served with croutons of ham, egg etc. Merluza which is a white fish. Fabada asturiana which is a delicious and hearty bean stew. Lechazo asado is a roasted milk-fed lamb. Pescaito frito, battered (sometimes inadobo) fried fish are typical from Málaga and alsoWestern Andalusia. Turrón is a type of nougat with almonds and honey, typical at Christmas. Polvorón is a type of Spanish shortbread, typical at Christmas. Meat is also very popular in Spanish cuisine; sheep, lamb, pork, and beef are staples.
Today, Spanish cooking is "in fashion", especially thanks in part to Ferran Adrià, who in the summer of 2003 attained international renown thanks to praise in the Sunday supplement of The New York Times. His restaurant El Bulli is located in the province of Girona, near Roses. In a long article, the New York Times declared him the best chef in the world, and postulated the supremacy of Spanish cooking over French cuisine.