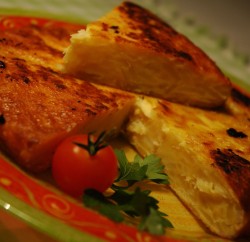 Tortilla de patata is my favourite Spanish food. And it's so easy to make, you'll probably be quite surprised! It is a typical Spanish dish consisting of an egg omelette with fried potatoes. Frequently it also includes onion depending on region or taste. It is usually served in Spanish bars as a tapa. (small portion)
Preparation Time: 10 minutes
Cooking Time: 20-25 minutes
You will need:
(serves 2-4)
1 cup olive oil
four large potatoes (peel and cut into small pieces about 2mm thick)
salt to taste
four large eggs
one large onion, thinly sliced (optional, but I always add it as I love the taste)
Heat the oil in a 9-inch skillet, add potato pieces, one slice at a time so that they don't stick. Alternate layers of potato and onion.
Cook slowly, over medium heat. Do not fry or the potatoes will be cooked on the outside but raw in the middle. Turn occasionally until potatoes are tender, but not brown yet. They must be loose, not stuck together.
Beat the eggs in a large bowl with a fork.
Add salt to taste.
Drain potatoes.
Add potatoes to beaten eggs, pressing them so that eggs cover them completely. Let sit for 15 minutes.
Heat 2 tbsps of the oil in large skillet over high heat. Add potato-egg mixture, spreading quickly.
Lower the heat to medium-high. Shake the pan to prevent any sticking (essential step!) When the potatoes start to brown but the egg on top is still runny and uncooked, put a plate on top of the skillet and flip to cook the other side. At this point add another tbsp of oil.
Brown the tortilla on the other side. You can flip it three or four times to give it a nice uniform golden brown colour.
Serve hot or cold, it's delicious either way. I tend to prefer hot, with a slice of french bread. Mmmmmmmmm.