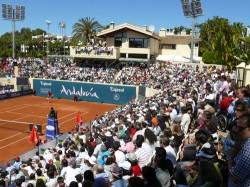 Puente Romano is the setting for the first ever Marbella Masters Tennis Tournament from 17th to 19th September. Tennis greats such as Sergi Bruguera, Richard Krajicek and Pat Cash will be playing and the tournament will last 4 nights and is expected to attract about 15,000 fans. There will also be exhibition matches from Martina Hingis and Mansour Bahrami.
Since the tennis club was founded by the famous Swedish tennis player, Bjorn Borg in 1979 many famous tennis legends have graced its courts. There have been many prestigious international tournaments with such legendary stars such as Boris Becker and John McEnroe to name but a few, and the Central court has the capacity to seat more than 2,500 fans.
The Hotel Puente Romano Tennis Club has 10 tennis courts (8 clay, 2 hard). Pros provide lessons and tips for the beginner to the more advanced player. Special hands-on instruction is also available for the junior player.
If you're a tennis fan, this is an unmissable event!
For more information, go to www.marbellamasters.es or call 0034 618 483 766
Ticketmaster: 0034 902 15 0025
Where:
Club de Tenis Puente Romano
Bulevar Príncipe Alfonso von Hohenlohe s/n,
Hotel Puente Romano
Marbella, 29602, Spain