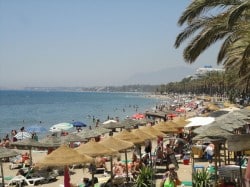 When it comes to Spanish property, the Costas are king. And when it comes to the Costas, the Costa del Sol is the king of kings. Its reputation for beautiful beaches and non-stop sunshine – how else do you think it got its name, the "Coast of the Sun"? – has attracted huge numbers of overseas property buyers, particularly those from Britain.
Planning to join the throngs of holiday home hunters or generate some rental income? Where should you be looking?
Overseas property portal TheMoveChannel.com crunches some numbers to work out the five most popular hotspots in the Costa del Sol: 
Marbella
The most famous of Costa del Sol's towns, the name Marbella is synonymous with the Golden Mile – not to mention luxury. Over the years, the high-end town has turned into a tourist hub; it has 200,000 residents but attracts even more every year thanks to its perfect climate, buzzing resorts and wide range of restaurants and bars.
Torremolinos
Located to the west of Malaga, Torremolinos is one of the oldest resorts in the Costa del Sol: Marbella may be the most sought-after, but Torremolinos was the first. Transformed from a fishing village into a world-class resort, its nightlife is even livelier than Marbella, drawing in British expats keen to live La Vida Loca all year round.
Nerja

Haven't heard of Nerja? That's the point. It's a popular place on the Costa del Sol, but its best quality is how unspoilt it's remained. The town itself is a quaint slice of Spanish life, while the uncommercialised coastline only shines a spotlight on its curious landscape – a string of caves to complement the long, golden beaches.
Fuengirola
Fuengirola has all the things you expect from a Costa del Sol resort – and more. The subtropical Mediterranean climate and scorching summer temperatures are enough to satisfy the sun-seeking holidaymakers, while its urban town and large expat community convince many to stay on a more permanent basis. But its range of historical sites adds a layer of culture that is worth exploring for sun-seekers and shade-dwellers alike. A well developed tourist resort with its own Moorish castle? The combination makes Fuengirola a property hotspot that's almost as fun as its name.
Benalmadena

Located in the heart of the Costa del Sol, Benalmadena is one of the more in-demand areas of the Costa del Sol. Why? Its charming blend of loud and quiet: discos and hotels adorn the coast, which even boasts a SeaLife centre to go with the Costa's typically stunning shoreline. But nearby are beautiful mountains that contrast the highly urbanised town, while it is also home to the largest Buddhist stupa in the Western world.