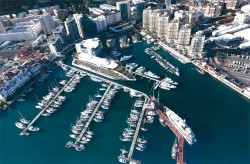 With the Sunborn Gibraltar we will see the first 5-star hotel to the Rock of Gibraltar. Over 12 milion people visit Gibraltar every year. Most of them tend to arrive from Spain and spend the majority of their stay on the other side of the border. With this first floating 5-star luxury hotel, Gibraltar wants to change this and keep the tourists in their quite small town.
Sunborn Gibraltar is a five-star grand yacht hotel that arrived in Gibraltar already. It is just waiting for enough space for mooring. Sunborn Gibraltar is a hotel with 189 guest rooms. Most of the rooms are with outdoor space and views to the Mediterranean. Of this rooms 22 are royal suites. All this rooms are within the seven hotel floors and one service floor. The hotel has a length of 142 metres. The ship itself costs a whopping 150 million Euro.
It also includes a casino, spa and fitness center, cocktail lounges, fine dining restaurants and a ballroom. Even a huge conference room for up to 540 guests is included on this ship. The Sunborn Gibraltar is a self-contained floating vessel, but functions like a normal building. The luxusy hotel will moored in Ocean Village Marina, next to the existing Casino.