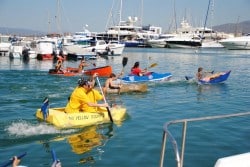 A highlight of Gibraltar's social calendar since 2009, the Charity Cardboard Boat Race is back for its fifth outing on 24 August. Once a special secret belonging only to the Rock, the Race is now known to millions thanks to its appearance on Channel 5's recent documentary 'Gibraltar: Britain in the Sun'.
Sandra Lamplough from Race hosts Ocean Village Marina, comments, "Every year we attract a healthy list of entrants keen to take on the 1,000 metre course, and an equally healthy crowd eager to cheer them on – and have a laugh at their soggy sinking expense. It's a simple and slightly comical event, but it has captured Gibraltar's imagination and competitive spirit and I am sure this year's Race will be just as captivating as the ones before."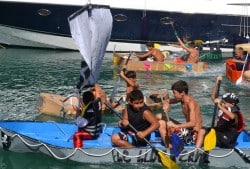 Set against a backdrop of superyachts moored in Ocean Village, the Charity Cardboard Boat Race offers family-friendly summer fun and, as usual, there will prizes for winners (and losers under the moniker 'Best Titanic Sinking') as well as those who have been particularly creative in their boat-design and fancy dress costumes. A bouncy castle will be on hand for the little'uns as well as live music and commentary throughout the racing.
For 2013 a new rule has been added to the intentionally strict list of regulations, and this enforces a minimum of two people in every boat. Otherwise they follow much the same as last year to put everyone at the same (dis)advantage. The entire boat must be built of corrugated cardboard with wood, plastic, fibreglass and any kind of flotation foam completely banned. The cardboard can be as thick or layered as entrants wish with carpet tubes also conforming to regulations. As in 2012, the use of proper paddles and oars is now permitted – and remember to keep that 'cockpit' open so crew can safely abandon ship if she starts to make her way to the sea bed.
Over the years the Race has seen some fantastic creations sparked by vivid imaginations from pirate to Viking ships and dragon boats to space shuttles. Judging for this year's 'best in show' will take place at 10.30am in Casemates Square before the procession down to Ocean Village Marina. The first race, the children's race (lifejackets essential), kicks off at midday from Leisure Island. Full rules are available upon registration.
The event has been organised by the William Tilley Lodge and proceeds will go to various Gibraltar Sports Associations to aid Junior Development and also the GBC Open Day. There is a £25 registration fee for each adult team and £10 for child teams with competitors aged 14 and under. For spectators entrance is free of charge.