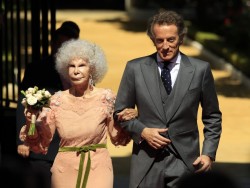 Spain's Duchess of Alba got married today, Wednesday 5th October, to a man 25 years younger than her. María del Rosario Cayetana Fitz-James Stuart y de Silva Falcó y Gurtubay has married civil servant Alfonso Diez Carabantes in Seville in what is the third marriage for the 85-year-old aristocrat.
The wedding ceremony took place in the Palacio de las Dueñas, in the centre of the Andalusian city, in front of about 40 intimate friends and family members. Despite their initial objections to the marriage, four of the Duchess' six children were at the ceremony. Their opposition was so bad that their mother divided up much of her estate among them, although she still has control over the assets.
Duquesa de Alba in salmon pink
The bride wore a salmon pink dress with a moss green sash by Spanish fashion designers Victorio y Lucchino who was present as well and shoes by Pilar Burgos.
This wedding was a dramatic change from the Duchess's first marriage in October 1947 to Don Pedro Luis Martinez de Irujo y Artacoz (1919–1972), son of the Duke of Sotomayor, when the 21-year-old bride had 1,000 guests and wore gems reportedly worth nearly 1 million Euro even then. Estimates of her wealth range from 600 million euro to 3.5 billion euro. Besides fabulous and historic real estate sprinkled around Spain, the family treasure boasts paintings by Goya and Velazquez, a first-edition copy of Cervantes "El Quixote", and letters written by Christopher Columbus.
The duchess has more titles than any other noble on Earth, according to Guinness World Records, and as head of the house of Alba has the right to enter Seville cathedral on horseback. She is a distant relative of Queen Elizabeth and Winston Churchill.