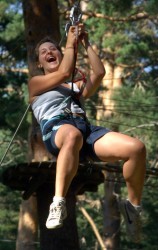 A new adventure park called Aventura Amazonia opened near Marbella in a plot of more than 20,000 m2. It is located in Elviria, Avenida Valeriano Rodriguez, N-340 Exit 192. The park offers a total of 73 activities and 20 zip-lines on eight adventure circuits. Aventura Amazonia has the longest zip-line in Andalucia with 240 metres where you can reach a speed of up to 60kph. All of this is located amongst trees in a natural environment. There a varying difficulties amongst the activities so visitors can choose their challenges in agility, speed and balance in a completely safe environment.
All you need is the desire to have fun. No need to be physically prepared. Aventura Amazonia has activities for children from six years old or 1.15 meters, families, adults and sportspeople. The visitors can spend the day in an eco-park which is an example of sustainable development, respecting the terrain and the trees, and making sure the general appearance fits with the surroundings. 
This is not the first park for Aventura Amazonia. They already have experience in this area with five more parks in Granada, Pirineos, two in Madrid and even one in South America in Colombia. Prices for this park in Marbella are from 16 Euro for Children up to 20 Euro for Adults. With that you can enjoy the Aventura Amazonia circuits for a maximum of 3 hours.