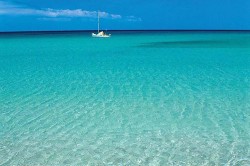 The good weather sparks the holiday get away for anyone who longs for a seaside break. On the Sicilian coasts one can already feel the first sea breeze which evokes the atmosphere of a warm summer.
Among the wonders that Sicily has to offer one of the top attractions is the warm, azure blue sea that laps white sandy beaches and rocky coves. The sea is never boring and staying in a home with sea views is an exciting and restful experience.
There are different ways to enjoy the sea: nature lovers prefer to explore unspoilt landscapes whereas some visitors are attracted by the cities. DiCasaInSicilia offers a wide and varied range of accommodation to suit every need.

A splendid ocean panorama in an extraordinary landscape, dominated by the sumptuous outline of Mount Etna rising in a distance, where your views to the sea are interrupted only by scattered thick clumps of vegetation and rocks. This is the unique location of Anemone, a charming sea front villa set in a housing complex halfway between Syracuse and Catania.

Situated in a stunning cliff top position overlooking the blue waters of Favignana – the largest of the Egadi archipelago and a loved diving and snorkelling destinations – Villa sul Mare is a luxury villa that belongs to a seven-hectare estate with a complex of 10 apartments. Set in a commanding situation it offers breathtaking views of the surrounding landscape and of the bays of Punta Lunga and Preveto.

Right in the heart of the small island of Ortigia, the fascinating historical centre of Syracuse, the two apartments Riva Levante are located on the second and top floor of a period building. All the magic of this beautiful town, packed with artistic and architectural treasures, is right outside the doors. By day, the town's historical sites such as the cathedral with its imposing baroque façade and its square, the medieval Maniace Castle and the mythical Aretusa Fountain radiate authentic charm. And by night, after a romantic stroll along the promenade, the square of St. Rocco, the narrow streets and alleys, and a wide array of bars, restaurants and cafés are the perfect setting for getting to know the town.
About DiCasaInSicilia
Since 1992 DiCasaInSicilia has been offering a large selection of exclusive villas, charming holiday homes and apartments for vacations in the most beautiful places Sicily has to offer.

All the villas joining the portfolio have been hand picked and personally inspected to ensure the very highest standards of quality and comfort for your holiday. Luxury interiors, individual atmosphere and first-class locations are the main criteria for putting together this catalogue. This careful selection guarantees you a relaxed and carefree stay, helping you to feel absolutely at home every time.
DiCasaInSicilia is committed to provide great quality products, excellent service and great value, allowing you to relax and enjoy your dream holiday in Sicily