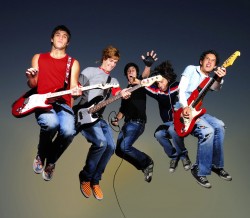 Summer is finally coming to the Costa del Sol and with it, the promise of warmer balmy nights, ice cold mojitos and a chance to let your hair down at one or more of this season's concerts.
In the coming months artists from all over the world will be visiting the province, performing in a variety of concerts offering all kinds of music, such as: pop-rock, jazz, blues and soul, with sounds from the 80's, 90's and even some modern music too. British group, Jamiroquai, headed by singer Jason Kay have confirmed this week that their tour date in Malaga will be 3rd August.
While the complete concert programme is yet to be finalised, amongst the many famous names who will appear at the open air auditorium are Ricky Martin and Juanes. The Puerto Rican "Mr. La Vida Loca" himself will be in Malaga on the 27th July as part of his European "Music Soul Sex" tour. It has also been announced that he will sing some new material, as well as well loved classics from previous albums.
Peter André, a English-born Australian singer, who once topped the charts with his hit single "Mysterious Girl" (how could we forget?!) back in 1997 will also be heading the bill.
André has recently gone on to become a TV and tabloid favourite, after the media hype surrounding his marriage and subsequent divorce to Katie Price, (a former UK glamour model and reality TV star) who he met when they were both contestants on a reality show.
However, Peter André is still making music, with albums released in 2006 and 2009. His last album "Accelerate" was released in November 2010 and became Andre's third top 10 album in a year, and fourth overall.
He will give performances on Wednesday 20th July in Benidorm and Friday 22nd July at Marbella's Playa de Pinillo.
Also in Marbella, the famous Nikki Beach restaurant and bar will be presenting "Kid Creole and the Coconuts" followed by a "Saturday Night Fever" after show party on Thursday 25th August from 9pm. Tickets cost €50 and include a welcome cocktail. Nikki Beach is located on one of Marbella's most beautiful beaches, just ten minutes drive from central Marbella.