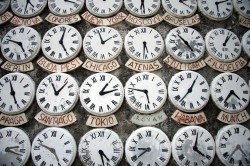 Considering the times of crisis that we are currently going through here in Spain, money is something not a lot of us have to spare, and that's where this new initiative from a newly opened establishment – a Time Bank – in Marbella comes into play. Now while this concept might sound a little strange at first, I urge you to read on.
In this bank, there are no tellers, no vaults, cheques or even money to speak of. Instead the "bank" offers a selection of different services based on the abilities of its members, and it pays with… well, more services, which is in actual fact "time-based currency", completely abolishing the need for money at all. Each client, upon registration will offer their own abilities to the rest of the members and can earn the help of others who can teach them, or share what they know. 
The Time Bank has only been open for a few short months and this system of exchanging services, abilities, and knowledge is being supported by the local Welfare Department and the organisation 'Marbella Voluntaria' and has 13 members so far. The hours these members give range from advice about investing in the stock market to technology or language classes, or even teaching how to cut hair. "Everyone offers whatever they want to give and gets back whatever they need", Marta Fernández who runs the Time Bank was quoted as saying.
The system of the Time Bank is quite easy to understand. A database which has been created by the founders of the bank shows offers and requests and tells members how to agree on an exchange. The bank also has the possibility of forming workshops if several people are requesting the same type of class or knowledge. "When for example you give three hours of a service to a member, your account is credited with three hours that you can spend on anything that interests you or you have always wanted to know how to do", Marta explains.
Other members have praised this type of bartering system as truly revolutional, because there are some activities that generally are difficult to access, either because of schedule confinements or because the cost incurred with learning a particular subject or activity is simply too great.
The whole idea behind Time Banks is to provide inspiration, guidance and mutual help. Time banks are fun and exciting way for people to come together to help others and help themselves at the same time by sharing their skills. Time Banks are not a "new" concept on a worldwide scale and although many people have not heard about them, they have flourished in both the United States and the UK in recent years.
You can find the Marbella Time Bank at Divina Pastora Civic Centre.