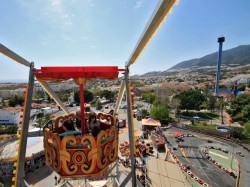 For those not already in the know, Tivoli World is an attraction park in Benalmadena which offers a great day out for all the family with its combination of traditional fairground rides, faster rides, water rides and many more – all surrounded by lush gardens with decorative fountains.
Tivoli World has decided to change its opening hours, a change which came into effect on the 30th April. The hours the park now opens to the public are from 11am to 7pm Wednesday to Friday and from 12 midday to 9pm on weekends. Tivoli World has also announced that it will be hosting some new productions this year, including a Ukrainian ballet show produced by Sergei Ilchenko. There will also be various kids plays this year, such as Tanzani K, Tiny Town Show, Cinderella and Aladdin which are performed on the ground – however The Little Mermaid, another kids play is performed on the park's lovely "boat of mysteries".
Tivoli World is located just five minutes away from the Arroyo de la Miel train station and not too far from the bus station. Group tickets and special wrist bands can be bought on site and there is also free parking in the area.
You can also save 10% buying your tickets on-line at: www.tivoliworld.net and even purchase a Supertivolino on-line and save yourself a long wait in the queue!