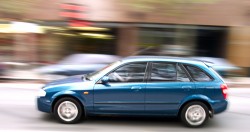 If you're living in or visiting Marbella and the surrounding areas and you need a car (or bike) rental, or even want to buy a bike, then consider your search well and truly finished.
Founded in 1998, "Rainbow Rentals" is conveniently located in the centre of Marbella, just a stones throw away from the promenade on Avda. Severo Ochoa quite near Clinica Europa and almost opposite the Hotel Fuerte Miramar Spa. The owner, José Antonio has 13 years experience in the trade, surviving through word of mouth and his service is second to none. To give you a better idea of the location, if you walk or drive a bit further, you soon join on to the main street of Marbella, "Ricardo Soriano" where all the shops, restaurants and banks are located. 
My partner and I recently bought a motor scooter from "Rainbow Rentals" and we have nothing but good things to share about our experience. After shopping around many different stores, we finally decided to buy from José because his customer service is truly wonderful, and also his shop has the added convenience of being able to sort out everything "under one roof". We bought, registered and insured the bike in the same office, and did not have to go to various different locations to sort out all the paperwork – as José does it all – which made the buying process infinitely smoother. And if you've been in Spain long enough, you should know that any "paperwork-related" process is generally a nightmare.
So, we've got location – now let me tell you about the prices. The most economical car you can rent from José will cost you just 19.90€ per day (for a minimum week's rental).
To take another example, you can rent a Fiat Panda for 3 days and it would cost you a mere 78 euros. When you compare that to leading car rental company, europcar, who have the same car and number of days priced at 150 euros, it's plainly impossible to go wrong.
These prices are the most economical in the area, second only to the airport – whose prices can simply not be matched. But who wants to go all the way to the airport to rent a car when they are staying in Marbella? That's exactly the point, and the essence of what makes José's business simply work.
One thing I must mention is that José speaks very little English, but I have just one thing to say about that… if my partner was able to buy from him with his "pigeon" Spanish (at best), then anyone can!
José has also decided to offer a special promotional gift to the readers of Costablog – with the sale of a motor scooter he is giving away two crash helmets completely free!
Important for any car rental
Remember, if you want to rent a car you will need your:
Passport/DNI
Driving licence
If you would prefer to buy a bike, then you will need the following documents:
Passport/DNI
A current rental contract or proof of ownership, such as a copia simple, for your place of residence within Spain
NIE
Rainbow Rentals is open from 9:30 until 14:00 and reopens from 16:30 until 20:00
Telephone number: 952 77 16 99 / 652 49 62 90