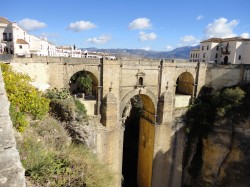 Ronda is a historic old town in the province of Malaga. Located in a mountain area, is famous for its views and landscapes.
Ronda is a town of cultural and historic importance that is a must visit for tourists for its architecture, the deep El Tajo gorge that carries the river Guadalevin through its center and the different sightseeing points. The town is located in the northern part of the Serrania de Ronda, between important nature parks such as Sierra de las Nieves and Grazalema.
Around the city you can find remains of prehistoric settlements of the Neolithic Age that includes paintings in "La Pileta" caves. The wonderful historic bridges around town serve as some of Ronda's most impressive features. These are The Roman Bridge (Puente Romano), the Old Bridge (Puente Viejo) and the New Bridge (Puente Nuevo).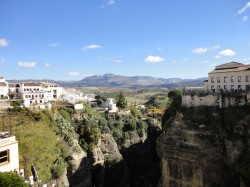 Ronda also has the oldest bullfighting ring in Spain and its place of the "Goyesca Corrida" which is an unique and historical bullfight that happens once a year. During the rest of the year, this bullring is now a museum and visitors can stroll out in the arena. One other important event in Ronda is their local "romeria" which is a pilgrimage that happens every year in honor of "Virgen de la Cabeza" and is organized by the local Catholic brotherhood of the same name.
Just walking around town is a good way to explore and discover the multiple interesting buildings such as "La casa de Don Bosco" that has an interior patio roofed in glass and small gardnes around, or the Mondragón Palace that dates from the Moorish period during the 12th century and has miniature water gardens. This palace leads to Plaza Duquesa de Parcent which is the main square in Ronda and there you can find two churches and the town hall building. Nearby you can also find the spacious plaza San Francisco full of bars and restaurants.
It is a perfect place for a day trip with friends or family and get the chance to discover and explore this wonderful historic town.