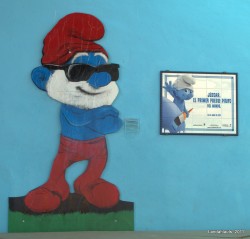 Júzcar is a town in the province of Malaga and it belongs to the mountains of Ronda. The town is now known as the "smurfs town" as it turned from a traditional white Andalusian town to all blue.
Júzcar had always been a typical white town, very common in Southern Spain, but in 2011 all the buildings of the town were painted smurf-blue by Sony Pictures to celebrate the premiere of "Smurfs" – the movie. This idea was part of the promotional campaign of the movie and by end of year, Sony Pictures offered to repaint the town in white, going back to its old look.
The citizens of the town voted to leave the buildings blue since thousands of tourists visited the place in the six months that was painted blue when the previous rate was just of 300 tourists per year. 
So now you can still visit the beautiful town of Júzcar, the Smurfs Town, and spend a different day exploring this place which is a great idea for a day trip for the whole family. Around town you can see statues and drawings of the characters of the movie making this town a great place for unique pictures and entertainment for children and adults.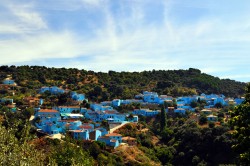 The church of Santa Catalina is the most important building in the village but it has other attractions such as the natural landscape surrounded with chestnuts and crags around the river Genal. You can also visit the remains of the tin factory located along the river at the place now called as "La Fabrica".
The Town Hall of Júzcar usually organizes various events throughout the year as flea markets, special hiking routes and different activities for the weekends.
The town is located in high Genal river in the middle region of Serrania de Ronda, near the towns of Estepona and Benahavis. It offers a varied landscape from the rocky Sierra Oreganal to the chestnut and pine forests in the foothills of Sierra Bermeja.