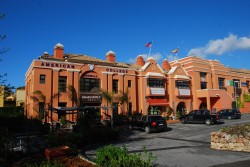 Thanks to this college now you can start a university career in Marbella and then transfer to the US and get the degree from an American university.
The American College of Marbella (ACM) is an American university program which offers students the possibility of starting their university career in Marbella by doing the first two years here and then transfer to the States or Canada to finish their degree.
The College is located in Marbella, in the residential area of Sierra Blanca and very close to the famous Golden Mile. It counts with well-equipped facilities and small classrooms for the best preparation of their students. The college has accommodation services that help the student with renting rooms or apartments and also sports activities facilities thanks to the agreement with Manolo Santana Racquets Club where the students can practise tennis, paddle, martial arts and fitness classes. 
The University Program offers a different range of courses that the students can take from English to Economics and Business or Sociology. You can start studying here and then transfer to one of the more than 50 American universities with which the Amerfican College of Marbella have agreements.
Studying in this college has the advantage of the American education system that consists of studying different courses during the first two years of general education and then decide the area of specialization and the possibility of choosing a major in different subjects. The students of ACM usually pursue degrees in Business, Marketing, Economics, History, Journalism, Finance or IT.
The ACM not only offers University programs but also a variety of independent courses that anyone who is interested can take. They offer courses such as languages: English and Spanish at all levels and for different purposes, exam preparations courses such as Cambridge, SAT, Toefl, etc. Marketing courses and others for the wine industry such as a Spanish Wine course or Wine Marketing.