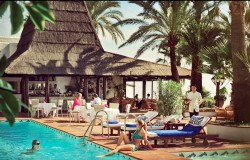 Marbella Club Hotel offering luxury accommodation in Marbella since 1954.
Marbella Club is a prestigious hotel that has been open since the 50s and since then it's been one of the most exclusive resorts in the city hosting celebrities through the years and having famous guests.
The designer rooms combine classic elegance and modern spirit and the suites are perfect for those who prefer more space. All the suite rooms have a luxurious design that includes quality fabrics, opulent bathrooms, large living rooms and outdoor areas. Then there are 18 grand suites of an higher category with unique features that guarantee a luxurious stay, being surrounded by lush flower gardens. 
Another option is the Andalusian style villas that are located in the heart of the resort and have from two to five bedrooms. Thanks to its exclusivity and privacy, it is the best option for families who come to spend a few days of vacation and relaxation. All the villas have a big kitchen, large living rooms and private pools.
But the true gem of this exclusive resort is the majestic "Villa del Mar". Surrounded by the beautiful gardens and with all the facilities of Marbella Club, this is a wonderful house of 6000 square meters in surface that combines Andalusian architecture with the most modern amenities.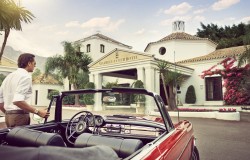 The hotel has perfect places for fine dining offering dishes and drinks with a touch of elegance. There are four different type of restaurants to choose from: The Grill for steak and meat dishes, the Beach Club for seafood lovers, the Summer Bar to enjoy amazing cocktails with your friends or family enjoying the views and the atmosphere and the MC Beach to experience the best local dishes with a mix of flavors by the beach. Each of these has its own personality and meets the most demanding palates.
At Marbella Club you can also find a Thalasso Spa and exclusive wellness programs that will help you relax and heal mind, body and spirit. The spa counts with facilities like steam room, hammam baths, finnish sauna stove and 12 treatment rooms. Their thalassotherapy and beauty treatments have different benefits from stress reduction to improved circulation, muscle relaxation or immune system booster.
The leisure facilities include large golf fields, access to an exclusive club of tennis, fully equipped gym with the most advanced technology and stables that host horse riding championships. With all the different options for relax and leisure, Marbella Club is definitely one of the best places for luxury holidays in the city.