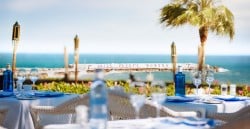 Opened in 1979, the Hotel Puente Romano, located in the most exclusive area of Marbella, is one of the best resorts in town offering the best quality service in the hospitality industry.
The Puente Romano Marbella Beach Resort is located in the Golden Mile of Marbella, right in the center equidistant between Puerto Banus and Marbella town centre with splendid views of the Mediterranean Sea and great beaches that are walking distance.
The luxury beach resort has been designed with the peculiar charm of an Andalusian village where white is the main colour and it opens it doors to the blue sky and sea of the beautiful city of Marbella in the Costa del Sol. Staying here or just visiting any of the places within the resort, you will feel the "Andalucia" vibes while enjoying one of the many leisure activities or dining options they offer.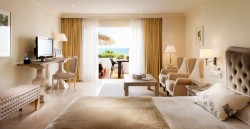 For accommodation you have plenty of different choices to choose from as they have 266 rooms and suites distributed in 27 houses of 3 floors each designed to offer privacy and a perfect rest for their guests. The resort counts with an extensive green area with beautiful botanical gardens and swimming pools.
The leisure offer includes a tennis club, golf playground, fitness and wellness center and beach and water sports. There is also a kids club that organizes special activities for the little ones, making this resort a perfect place to stay for the whole family.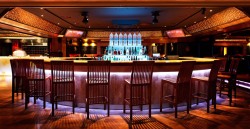 The Plaza Village is the dining area within the resort that offers a unique dining and entertainment concept in Marbella. You can taste dishes from all around the world in the five different restaurants they have, that combines the best of Arabic, Japanese, Italian and local gastronomy. The famous chef Dani Garcia, has its restaurant here which is recognized with 2 Michelin stars. You can enjoy a nice meal in the outdoor terrace in summer and covered in winter while listening to live music performances as the sun falls on the Roman Bridge in a magical space.
This resort has also one of the most sophisticated clubs in the Costa del Sol, with the best DJs, cocktails and entertainment. The club is called Suites which transforms from restaurant to night club during the weekends offering great atmosphere and the best crowd and music.
All of this makes Hotel Puente Romano one of the best resorts and they offer a variety of special holiday packages for all occasions that you can gift or share with your loved ones. Some of these packages are: girls night in, anti-stress break, romantic getaway for couples and special Christmas packages for families.