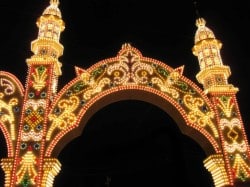 A week full of fun activities and events mixed with the tradition of Southern Spains typical "feria" festivities is to take place in Nerja during 9 – 13 October 2014.
The fair is one of the most common festivals in the towns of the province of Malaga and traditionally each town has few days of this festive season each year. In the case of Nerja, this year the fair will take place on 9th October until the 13th. If you want to enjoy a festive atmosphere while discovering one of the most beautiful villages in the Malaga coast, it is advisable to visit during these days.
Visiting Nerja during the week of the Feria de Nerja is one of the most exciting times to be here because there are many events taking place and music and celebrations happening all over the town. You will see the town in a whole different atmosphere of "fiesta" and party spirit where the locals and the visitors can enjoy a great time with family and friends, dancing, eating and singing. This fair is celebrated in honor of the town's patron saints which are "La Virgen de las Angustiras" and "San Miguel Arcángel". 
There are two different places, one to the east and one to the west of the town centre where you can enjoy all the events of the Feria de Nerja. You can visit them on different days or pass by both sides on the same day to make the most of it.
During these days there are different activities and events for all kind of people such as the opening ceremony with fireworks display, a gala night with music performances and the election of "queen" and "king" of the fair this year, in the church there are daily masses and there is a special zone of entertainment for the kids.
The "casetas" are typical spaces in the Feria where people get together to sing, dance and eat. You can check out the different casetas and see how traditionally dressed up are the locals and enjoy some folkloric music and dance shows. There are other casetas where there is commercial music to carry on the party during the night and have drinks too.