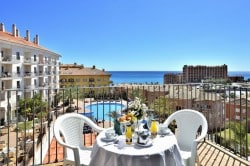 Enjoy your stay in one of the best hotels in the beautiful town of Benalmadena, in Costa del Sol. With amazing views of the Mediterranean Sea and in a very centric location to enjoy everything to do around the area.
Hotel Benalmadena Palace Spa is located in an idyllic setting on the Costa del Sol, popular for its mild climate, is one of the most complete places to enjoy an unforgettable holiday in family. With spectacular views of the pool, sea and mountain, the hotel presents a wide range of leisure facilities and surroundings such as: port, promenade, beaches, shopping center, restaurants and bars, golf courses, parks such as Parque de la Paloma and other recreational areas where you will get to know the local customs and culture and Andalusian folklore. 
Opened in 2004 and equipped with modern infrastructure, Benalmádena Palace Spa is ideal for couples and families. It has 148 apartments and 34 studios and qualified, friendly, close and warm staff and offers a comprehensive service-oriented activities where maximum comfort and welfare of the client is the priority.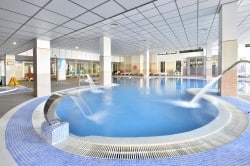 Besides its Spa, its sports areas, solariums, swimming pools and summer terrace, its playground and Mini Club, Disco Pub and its cafe Happy Hour, there are other events like fun animation program for the young ones and children and live performances every night.
All of this makes this hotel a pretty good place to stay and to enjoy wonderful holiday as it has all the services that any high quality hotel should have: variety of bars and restaurants, some with live music at night, indoor pool and outdoor pool to enjoy the good weather, gym, games room and sports facilities among others.
Also the beach is very close by just walking distance from the hotel, there is a full spa with Jacuzzi, steam room and sauna and also a mini golf for the entertainment of the whole family. Plus every night they offer a unique animation show for all the public.
Near the hotel you can easily go to all the points of interest in Benalmadena town and the location of the hotel is wonderful as you can also visit other towns and places nearby. It is also a splendid place for celebrations so they offer a wedding organization service or for any other type of events.