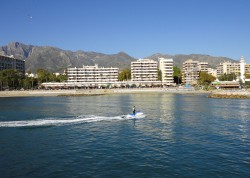 A new study recently carried out by Oak Power Communication (OPC) has revealed that Marbella is consistently perceived on a global scale as having the best beaches in Spain. During the study, OPC asked over 600 journalists from the international media for their thoughts on Spanish tourism. Once the results were tallied up, it was clear that Marbella's beaches won out, closely followed by Ibiza and Lanzarote respectively.
With places like Puerto Banus, where the streets are lined with designer shops; and the Old Town (Casco Antiguo), where the winding cobbled streets hide plenty of wonderful boutiques, perhaps it's no surprise that Marbella was also voted the third trendiest and one of the most fashionable cities in the whole of Spain.
Research also shows that the region of Andalucia enjoys the best "brand image" in Spain. As a general tourist brand, Andalucia rated very high, with a score of 7.9 out of 10, followed by Madrid and Barcelona, with 7.3 and 7.1 each. 
Maria Asenjo from OPC was quoted as saying "Journalists value Andalucia's purely Spanish spirit, strength and passion, as well as enormous improvement in infrastructure and the quality of services in the past years".
Madrid has the best image as a tourist city, with the Museo del Prado being the "best valued element of Spain's artistic and tourist heritage", followed closely by the Alhambra in Granada